Classic Rock Songs in Movie Trailers
Rockers unite! Everyone knows the immediate rush of joy that comes with hearing the opening riff of rock songs from years past- and yes, Gerard Zappa of Wooster says he's talking about the classics. Even better than hearing them through a Spotify playlist is happening upon them in unexpected places: like upcoming movie trailers!
Below are just a few movies premiering this year that soundtrack classic rock songs to draw people in and keep them hooked.
Jesus Revolution (February 2023)
Song: Free Ride by Edgar Winter Group
Perfectly picked for the film, which is about a pastor opening a church amongst the flood of hippie culture, Free Ride by Edgar Winter Group was one of the few hits the band had during the 60s and 70s (aka the prime time for peace and love, man!).
This is a great use of the song, especially since this tune is often overlooked when thinking back to the hippie era; especially since there was a huge surge of incredible music happening in that singular time!
We Have a Ghost (February 2023)
Song: Break on Through (To the Other Side) by The Doors
Though the song used in the trailer isn't the original version of this smash hit by The Doors, it's still immediately recognizable and still offers up the same air of nostalgia as the true version does. People are still in love with the sound of that organ, even all these years later, and pairing it with an actor like David Harbour? Heavenly.
Cocaine Bear (February 2023)
Song: White Lines by Grandmaster Flash and Melle Mel
This wild film, which is loosely based on a true story by the way, wisely used the 1983 song White Lines to score its trailer. It was a perfect choice, for obvious reasons, and makes the film- which is about a bear rampant on a ton of cocaine, seem even more fun than it is.
Dungeons & Dragons: Honor Among Thieves (March 2023)
Song: Whole Lotta Love by Led Zeppelin
If there's Zeppelin involved, sign us up. Fan favorite fantasy game Dungeons & Dragons makes it's cinematic debut this year, and there was truly no better band to welcome them to the big screen than Zeppelin.
The band is known for their use of magic and legend themes in their music (Mjolnir in Immigrant Song, etc.), so it makes sense they were chosen for what is likely going to be the most iconic fantasy movie of the year!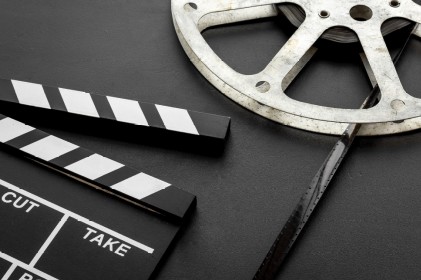 Spinning Gold (March 2023)
Song: Rock and Roll All Nite by KISS
Look, it's a movie about Casablanca Records- how could they not use a KISS song? Especially since the company brought the band to life. Movie buffs expect that the film will showcase even more hits being about music, and will likely focus on other famous acts like the Village People and Donna Summer.
Guardians Of the Galaxy 3 (May 2023)
Song: In The Meantime by Spacehog
If there's anything fans can count on, it's the GotG movies using the best hits in their movies- much less their trailers. This time around, though, the franchise is switching from their typical use of 70s and 80s hits and going into the mid-90s ('94 to be exact)!
Regardless of the era of music used, it was used well. This one is definitely going to be a tear-jerker.